Carmen Argote

Houses he wanted to build


November 7th - December 12th, 2015

Opening Reception November 7th, 7-9pm
Daytime Preview: noon-1:30pm

Gallery open Saturdays 3-5pm and by appointment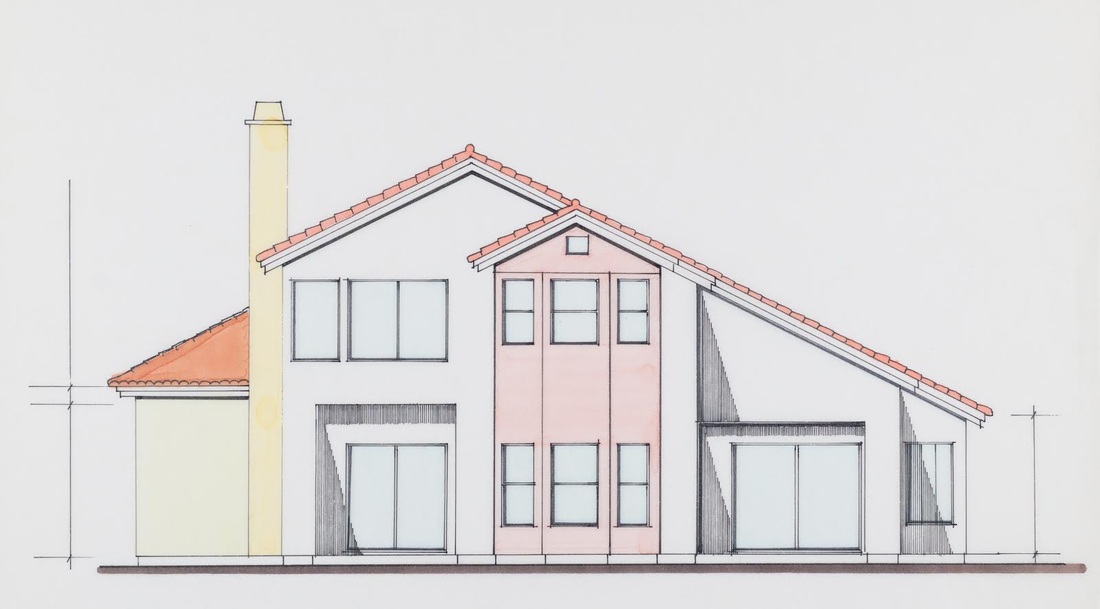 Above: Carmen's father's drawing of a house he wanted to build, from a portfolio of house drawings. Jorge Javier Argote 1986
Photo by Craig Kirk

Adjunct Position presents a series of sculptural works and a large scale installation by Carmen Argote. This new work explores architectural space as a cultural accomodator for personal history.
For her site-specific installation, Argote hangs a series of mantas, a muslin cloth treated with paint and graphite rubbings, to create an exterior layer hanging from the eaves of the Adjunct Positions home. On these hanging mantas, which re-create the full front face of the house, Argote combines architectural rubbings of the house itself with an overlay of painted structures from her father's architectural drawings.
Argote's father, an architect in Guadalajara, Mexico, created architectural renderings of houses that he wanted to build, all rendered in a 1970's style incorporating light tangerine, pink, and light blue sections on their facades, which reflect the standard of his architectural education in Mexico.
Conceptually, the installation stems from Argote's personal relationship to the possibility of homeownership, her parents' relationship to housing, and her immigrant experience as it relates to the Los Angeles landscape. In this way Argote overlays a personal history onto the facade of the gallery home, a continuation of an artmaking process focused on her father's longing to return to Guadalajara. By extension the work also forms Argote's own longing for home outside of an actual structure as an imagined architecture.
"The notion of the architectural footprint and layout, the mental imprint of movement through a space, and the perimeter shape of home continue to be a major focus in my art making. I build from these notions outward. I tend to start in interiors of the spaces that I inhabit." - Carmen Argote
Within the lower gallery at Adjunct Positions, Argote displays a series of sculptures inspired by a simple laundry folding tool, which Argote has co-opted as a sculptural form. These sculptures are reminiscent of both architectural structure and the physical movement which translates loose fabric into folded structure. They embody the ritual of folding, a process of layering over onto itself, so that one part of it covers another. The folded structures, like the installation, are of a human scale, yet transform into architectural models through repetition and play.
About The Artist:
Carmen Argote
is a Los Angeles based artist whose work focuses on the exploration of personal history through architecture and the spaces that she inhabits. Argote uses the action of prolonged interaction with a space as a way to begin to understand it. Inhabiting a space allows Argote to connect to the site through use, allowing time for her to develop and accumulate daily rituals that help her understand the place through habit. Argote approaches a residency as part of her process. Working from a site allows her to explore and reflect her concepts in a wide range of materials, media, and programing events, although primarily creating site responsive installations.
By remembering her childhood experiences within the Los Angeles landscape, Argote traces the influences of those immediate surroundings to ideas of identity, place-making, and notions of home. She explores her own immigrant identity through memory and architecture, predominantly focusing on spaces that have had an ongoing presence in her life, either directly such as her childhood home, or places that are familiar through storytelling, such as houses in Guadalajara.
Argote states that the intention of her practice is to be more able to see the invisible in front of her, a visual cultural inheritance that is intuitively understood and felt but not articulated, and to create a cultural valuing of such sites that have influenced her.
Argote received her MFA from UCLA in 2007 and attended the Skowhegan School of Painting and Sculpture in 2009. Argote exhibited at the Vincent Price Museum 2013, and was commissioned for the Metro Expo Line station at 17th/SMC station in Santa Monica. Her recent dual-site exhibition, A Vast Furniture, opened April 2015 at the MAK Center for Art and Architecture and in the desert at a High Desert Test Sites location in Wonder Valley.